Yes, Revit is a design tool for architects and engineers. Revit is also evolving into a fabrication tool for contractors. But did you know that a Building Information Model (BIM) can also be beneficial for building owners and facility managers?
Autodesk, the leading software company for the building industry, acquired FM Desktop in 2006 only to be discontinued shortly after in 2009. Facility Managers were left scrambling for an alternative to manage their buildings digitally. While the workflow for managing your building from within facility management software hasn't changed much over the years, the birth of BIM has encouraged change.
A Building Information Model (also known as a 4D model) is a term used for a 3-dimensional model containing real-world information. For example, you can assign a material to a floor, indicate a manufacturer and model number to mechanical equipment, or calculate electrical loads of power equipment. There is an infinite amount of information you can put into your BIM model.
With all of that being said, the possibilities of time saved by using BIM during post-occupancy are endless. With a COBie compliant BIM model, a Facility Manager would have minimal data entry. An owner can track assets in a dynamic schedule (or spreadsheet). The more ambitious building owners and operators might even be involved during the design phases of the building by assigning offices and spaces to employees before the building is even built.
The biggest challenge that the building industry has yet to overcome is how to get "good" data into a Building Information Model. The growing trend of using BIM from design through construction has raised many questions such as:
Who takes ownership of inputting COBie compliant data into the model?
What should a Facilities Manager look for in a BIM model?
When should the building owner or operator get involved in the design process?
How can an owner or operator use a BIM model during post-occupancy?
We believe to have an answer to "how" BIM and facility management can place nicely together.
Introducing FM:Interact by FM:Systems
FM:Interact seems to be at the forefront of the BIM movement, allowing their users to manage their buildings with a live Revit model. It is a modular software for owners and operators who are looking to move to the next level of building management by using an intelligent 4D model.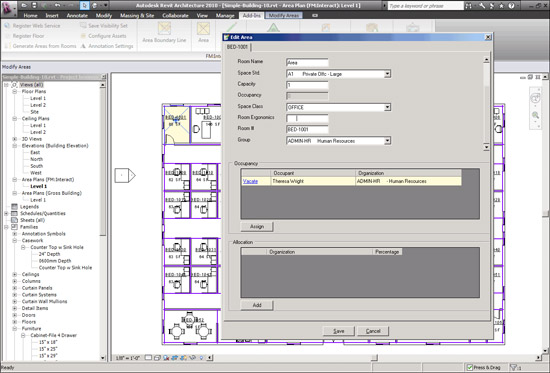 FM:Interact offers 11 modules in total, with three core modules:
Space Management
Allows owners an operators to track space inventories, occupancy data, and benchmarks to improve occupancy all of the above.
Strategic Planning
Enables plans to synch with operations by helping managers analyze headcount requirements and forecast for future space needs.
Asset Management
Tracks all building assets including equipment, furniture, and all other physical assets.
One of the most exciting features of FM:Interact is its ability to synchronize with a "live" Revit model, so that changes made from the FM:Interact interface can be seen by anyone working with the Revit model. This two-way data connection is key for ensuring accurate 4D representation for building operations post-occupancy.
The video below is a demonstration of the interactivity between Revit and FM:Interact.
BIM Extension is here to work with building owners and facility managers to ensure that the BIM Model is an accurate representation of the building with facility management in mind. Contact us for a free consultation.