For those of you who are new to Revit, there are many hurdles to overcome when working with documentation. We've all run into the issue where we want a drafting view title or titleblock to say "SCALE: NONE" or "SCALE: N.T.S". This is a simple task, however not very obvious in Revit.
Click the scale menu (it most likely currently says 12″ = 1′-0″). It is the small button on the bottom left corner of your view window. Select Custom… at the top of that menu.


In the Custom Scale dialogue box, you will see the ratio field, typically set to 1:1 for diagrams and details. Check the field below to enter a custom display name.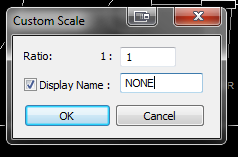 Now your titleblock and view titles will show the custom display name that you set.