While attempting to link an architectural Revit model into my electrical model, an interesting error message popped up:
"Unable to make the necessary Workset (Project Info) editable in the Linked File in order to change the Shared Coordinates."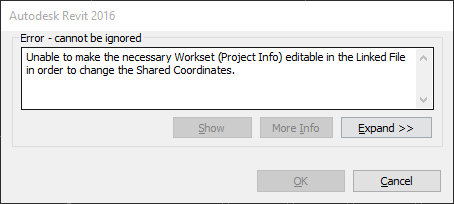 This was a new one for me.
When attempting to open these models, you can't uncheck the "Detach from Central" box, nor can you tick the "Create New Local" box.

This gave me the clue that the architectural model was a detached central model. This means that the model has been detached during an eTransmit process.
It is hard to find technical information regarding the state of these models. From what I've figured out, the model is in a state where it is technically "read only". So if the linking process requires accessing or revising anything in the linked model, you will get an error. In this case it was an issue with permissions to edit shared coordinates.
The Solution